Club News
Subscribe to posts
The operating numbers break down as follows:
                Phone contacts:  80m 63, 40m 172 (all N8YFF as usual), 20m 27, 15m 4, and 6m 1
                CW contacts: 40m 14, 20m 47 (A BIG set of kudos to Ray, K3YP, for his efforts
                Digital contacts: 20m 22 (Another solo contribution from Matt, N8OHU)
The operating score with power adjustment is 906 points.  Our points break down this way, CW (61 Q's x2= 122), Digital (22 Q's x 2= 44), Phone (287 x 1 =287) for a total of 453.  We have a power multiplier of 2.
                The bonus score claimed is 810. The bonuses include Media publicity, set up in a public space, information booth, site visits by invited supported agency and elected officials, educational activity, youth element (Thank you, CAITLYN!), GOTA (again Caitlyn and also Charlie), and Social Media.  Since we were on commercial power do to the weather situation, I did not put in for the Emergency power bonus.
Members of the Ashtabula County Amateur Radio Club will be participating in the national Amateur Radio Field Day exercise at the Geneva Township Office at 256 North Cedar St., Geneva, Ohio.  Since 1933, ham radio operators across North America have established temporary ham stations in public locations during Field Day to showcase the science and skill of Amateur Radio.  This event is open to the public and all are encouraged to attend.
For more than 100 years, Amateur Radio – sometimes called ham radio – has allowed people from all walks of life to experiment with electronics and communications techniques, as well as provide a free public service to their communities during a disaster or emergency, all without needing a cell phone or the internet.  Field Day demonstrates ham radio's ability to work reliably under any conditions from almost any location and create an independent communications network.  More than 35,000 people from thousands of locations participated on Field Day in 2017.
"It's easy for anyone to pick up a computer or smartphone, connect to the Internet and communicate, with no knowledge of how the devices function or connect with each other," said David Isgur, communications manager for the American Radio Relay League, the national association for Amateur Radio. "But if there's an interruption of service or you're out of range of a cell tower, you have no way to communicate.  Ham radio functions completely independent of the Internet or cell phone infrastructure, can interface with tablets and smartphone, and can be set up almost anywhere in minutes.  That's the beauty of Amateur Radio during a communications outage."
"Hams can literally throw a wire in a tree for an antenna, connect it to a battery-powered transmitter and communicate halfway around the world," Isgur added.  "Hams do this by using a layer in the Earth's atmosphere as a sort of mirror for radio waves.  In today's do-it-yourself (DIY) environment, ham radio remains one of the best way for people to learn about electronics, physics, meteorology, and numerous other scientific disciplines and is a huge asset to any community during disasters or emergencies if the standard communications infrastructure goes down."
Anyone may become a licensed Amateur Radio operator.  There are more than 725,000 licensed hams in the United States, as young as 9 and as old as 100.  And with clubs such as the Ashtabula County Amateur Club, it's easy for anybody to get involved right here in Ashtabula County.
**We've cancelled this year's club gathering for NVIS Day due to rainy weather**
Feel free to participate from your own location if you want to experiment with a new or old NVIS antenna.
***
The Ashtabula County Amateur Radio Club will be participating (conditions permitting) in the 2018 edition of NVIS Day on April 28, 2018. The club will have the trailer available at the Lampson Road staging area at 9am for setup and the event runs from 10am until 4pm Eastern. The weather for this event in our area has typically been on the windy and cold side, so please dress warmly. The only shelter from the wind is inside the trailer. There are restroom facilities at the site.
NVIS Day started right here in Ashtabula County with K8CY, lead by silent key, Bob Woodworth - WD8PVB, as way of experimenting with Near Vertical Incident Scattering antennas. Bob's interest led to a statewide event for other hams to learn more about this type of radio communication.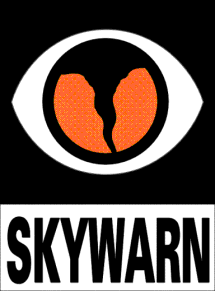 The National Weather Service in Cleveland has released their training schedule for 2018. The closest one for most members in the Ashtabula County Amateur Radio Club will be March 12, 2018 6:30 PM at the County Engineer's office in Jefferson.
https://youtu.be/uaXjbygmhRo
Twas the night before Christmas, when all through the shack, 
not a meter was stirring, not even on the rack;
The finals were hung by the chimney with care,
in hopes that St. Nick would tune them right there.
The children were nestled all snug in their beds,
while visions of moon-bounce
 danced in their heads;
and Mama with her handheld, and I with a trap,
had just settled our brains with a high voltage zap.
When out on the tower there rose such a clatter,
I sprang from the bench to see what was the matter.
away to the window I flew like a high tension flash,
tore open the shutters and threw up the sash..
The moon on the breast of the new fallen snow,
gave the glow of tubes of days long ago.
When what, to my wondering eyes should appear,
but a miniature sleigh, with mobile amateur gear;
with a little old ham, so lively and quick,
I knew in a moment, it must be Saint Nick.
More rapid than McElroy his keying it came,
and he listened and he tuned and called them by name:
"Now Dasher! Now Damper! Now Phasor and DX'en"
"On Common! On Coupled! On Doner and Blitzen!"
"To the top of the shack to the top of the wall"
"Now Dash away, Dash away, dashaway all!"
As dry days before Field Day do fly,
when they meet with the forecast and never comply,
so up on the shack top the signals they flew,
with the sleigh full of gear, and St. Nickolas too.
and then in a band opening, I heard on the roof,
antenna work by a ham on the hoof.
As I drew in my head and was tuning around,
down the feedline came St. Nicholas with a bound.
He was all tangled in coax, from his head to his foot,
and his check sheets were all tarnished with ashes and soot.
A bundle of gear he had flung on his back,
and he looked like a contester opening a six-pack;
His handheld – how it crackled! The signals did vary,
his equipment made noises, his QSO was quite merry.
His droll little mouth was drawn up like a Mho,
and the beard of his chin was white as slow scan snow.
The stump of a pipe he held tight in his teeth,
and the smoke, it encircled his head like a wreath.
He had a broad face and a round little belly,
that shook when he laughed like the roll of a tele.
He was chubby and plump, a right old elf,
and I laughed when I saw him, in spite of myself.
A wink of his eye and a twist of his head
soon gave me to know I had not QR-zed.
He spoke not a word, but went straight to his work,
and tuned all the finals, then turned with a jerk,
and keying his finger aside of his a nose,
and giving a nod, up the feed line he rose.
He sprang to his sleigh, his handheld gave a whistle,
and away they all flew, like the down on a thistle'
But I heard him exclaim 'Ere he faded out of sight'
"Happy Christmas to all and to all A good night!"
There are a few of these around the web, this one from WC4DC.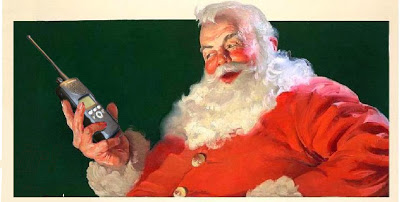 The annual Ashtabula County Amateur Radio Club Christmas party will be held December 2, 2017 at 6:00 PM at Best Friends Restaurant in Geneva, Oh. 
Reservations are required. Please call or email Jack Scafuro, or Dick Madison (see roster) by November 25, so we can give the restaurant an accurate count. Each guest will be ordering off the restaurant's regular menu and taking care of their own tab.
We will have the HT drawing and other door prizes after the banquet.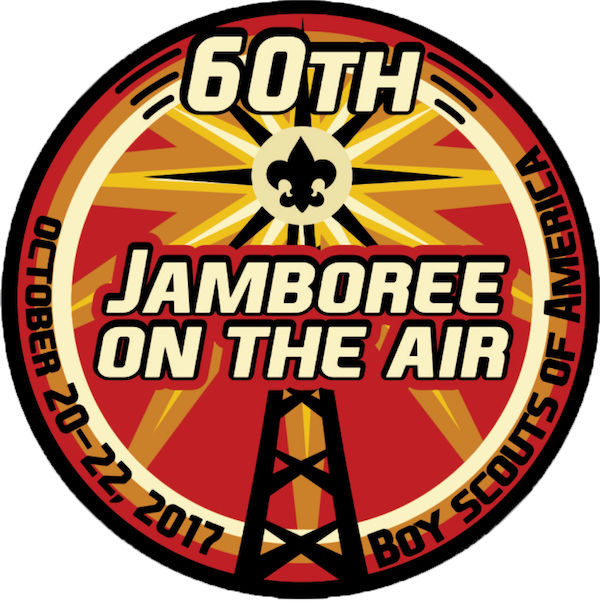 The Ashtabula County Amateur Radio Club will be providing our emergency communications trailer, radios, antennas, and licensed Amateur Radio operators to assist area Boy Scouts for the annual Boy Scouts Jamboree on the Air. The club will set up at Camp Beaumont and assist Scouts in learning about Amateur Radio and connecting with other Scouts around the country participating in the Jamboree. Club operations will be Saturday, October 21, 2017 from 10am until 4pm.
Camp Beaumont is located on State Route 45 in Rock Creek, Ohio.
What is JOTA?
When Scouts want to meet young people from another country, they usually think of attending a World Jamboree. But few people realize that each year more than a million Scouts and Guides "get together" over the airwaves for the annual Jamboree-on-the-Air (JOTA). During the 2014 event, worldwide Scouting participation included 1.1 million Boy Scouts and 200,000 Girl Guides/Gils Scouts, for a total participation of over 1.3 million--the largest Scouting event in the world.
Modern technology offers Scouts the exciting opportunity to make friends in other countries without leaving home. JOTA is an annual event in which Boy and Girl Scouts and Guides from all over the world speak to each other by means of Amateur (ham) Radio. Scouting experiences are exchanged and ideas are shared via radio waves. Since 1958 when the first Jamboree-on-the-Air was held, millions of Scouts have met each other through this event. Many contacts made during JOTA have resulted in pen pals and links between Scout troops that have lasted many years. With no restrictions on age or on the number of participants, and at little or no expense, JOTA allows Scouts to contact each other by ham radio. The radio stations are operated by licensed amateur radio operators. Many Scouts and leaders hold licenses and have their own stations, but the majority participate in JOTA through stations operated by local radio clubs and individual radio amateurs. Some operators use television or computer-linked communications.
-ARRL
The Ashtabula County Amateur Radio Club is planning operations for the 2017 edition of the Ohio QSO Party. Operations will be on August 26, 2017 from noon until midnight.
For details on the Ohio QSO Party, take a look at 
their site
. 
Plans are still being considered and have not been finalized. Stay tuned to the Thursday night nets, the club Facebook page, and this site for details.
Last year, the club earned a plaque for the Emergency Operations Center category for its operations at the Ashtabula County EMA.
K8CY will again be providing communications for the
2017 Bridges and Vines Bicycle Tour.
We need 8-10 mobile operators to be placed along the various courses to monitor the riders and call for the SAG vehicles in the event of an emergency.  
The date is August 12, 2017, and will go from 7 am until mid afternoon depending location.  The United Way puts on a luncheon for the riders and volunteers after the tour.  
Joan, N8YFF, will be serving as NCS for our operations.  Interested volunteers contact either
Dick Madison
or
Paul Andrews
to get on the list.