Club News
Subscribe to posts
Here are the experiences and observations of Hamvention 2017 by Paul Andrews, N8NYI...
     Members Attend 2017 Hamvention




With most of our members back from the Hamvention at its new location at the Greene County Fairgrounds, some coherent observations and comments are in order.  Let's start with the location itself.  The first reaction is that they have more room in which to set up than the previous location.  To be totally fair, the new location had some serious problems on Friday with opening day traffic and parking.  I give kudos to the DARA team and the local law enforcement folks as those were smoothed out on Saturday.  More of the onsite parking was open on Saturday than was open on Friday.  I think that was done to protect the grass area.

From our experience (Joan, N8YFF, and Paul, N8NYI), we found the park and ride in to be enjoyable from several aspects.  First, we did not have to contend with the close in traffic and parking problems.  Second was the opportunity to talk with other hams during the ride in and out.  We did not have to wait very long to pick up a bus either going to or coming from the fairgrounds.  Admittedly, we parked north of Yellow Spring at Young's Jersey Dairy (more on them later).  This was the first lot that we came to coming South from Springfield on U.S. Rte 68.  Friday, the talk in station was nuts so we took the first opportunity and did not regret it either day.

Vendor wise, all of the usual suspects were present except for the defunct AES.  There were vendors present from at least 6 countries outside the United States.  Given the international nature of the hobby, five national radio groups beside the ARRL were present, Great Britain, Germany, Japan, Canada, and Qatar. In addition to the national clubs, 10-10 International, the Young Ladies Radio League, and the Quarter Century Wireless Association had booths and were taking memberships.  In the way of new equipment, a big emphasis was on software defined radios with Flexware and a couple of other companies present.  With the exception of the building where the big retractable tower was put right in a main walkway, the aisle ways made in very easy to move around.  Between each of the main building, the fair board positioned sections of portable grandstands for rest and recuperation.

One of the biggest complaints in the last years at Hara was the food choices.  DARA said that they improve that and did so.  There were some 17 different food vendors on site with all types of food.  Joan and I did not sample much on site, but we hit Young's Jersey Dairy both days at the main location across from the parking that we used. Young's is working dairy farm with their own creamery and cheese plant. They do great ice cream and sandwiches at their main location and were serving a reduced menu at the fairgrounds.

As for the flea market, the majority was inside of the horse track in front of the grandstand.  Depending on which gate you used to enter the flea market, you had a short steep slope to contend with.  This is the area where you get a break from walking on hard surfaces as this area is grass.  Before the rain late Friday afternoon, you could walk with ease.  There was plenty of radio gear available from all brands with related accessories.  I noticed a lot of our "local" products for sale (Astatic D-104's).  I did not see any LDG tuners for sale in the flea market.  By Saturday morning, between the rain and all of the motorized traffic, the middle of the flea market aisles were becoming quite muddy and rutted. I think that will be watched in the future

The members who attended were Jack, Jake, and Troy Scufaro, Matt Mitchem, Tim Price, Joan and Paul Andrews.  Joan and Paul took in both Friday and Saturday.  All in all, the Hamvention remains a must do and see event.



The Ashtabula County Amateur Radio Club will be providing a series of classes to teach those interested the material needed to pass the FCC Technician Class License Exam. The classes will begin on Monday, May 22, 2017 and continue every Monday, except Memorial Day, until June 19, 2017.  Classes will be held from 6:30 PM until 8:00 PM at the 
Ashtabula County District Library, 4335 Park Ave, Ashtabula, OH 44004
. 
Tests will be offered at the Club's Field Day event on June 3, 2017.
 The Technician class license is the entry-level license of choice for most new ham radio operators. To earn the Technician license requires passing one examination totaling 35 questions on radio theory, regulations and operating practices. The license gives access to all Amateur Radio frequencies above 30 megahertz, allowing these licensees the ability to communicate locally and most often within North America. It also allows for some limited privileges on the HF (also called "short wave") bands used for international communications.
http://www.arrl.org/ham-radio-licenses
The 2017 edition of NVIS Day will be this Saturday, April 22, 2017.
The club will again be participating by setting up the club trailer at the Lampson Road Staging Area. The regular breakfast will be changed to 9 AM and the location will be changed as well. Some members are already planning on meeting at
Waffle House
. Setup will begin at 11 AM.
Details on the ARES Ohio Section about the statewide event are on the
Ohio ARES site
.
Information on what NVIS is can be found
here
.
NVIS Day started right here in Ashtabula County with K8CY, lead by silent key, Bob Woodworth - WD8PVB.
The results are finally in for the 2016 Ohio QSO party. Members of the club operated in the Emergency Operations Center Plaque Category and took first place!
Thanks to all who donated their time and effort to help earn that award.
Members of the Ashtabula County Amateur Radio Club and Ashtabula County ARES participated in the Perry Nuclear Power plant Evaluated Exercise on September 14, 2016. Thanks to all who donated their time and effort to help prepare in the case of an actual emergency.
"The week-long Perry Nuclear Power Plant Evaluated Exercise, which is overseen by FEMA, centered on a "mock event" occurring at the plant, 10 Center Road, Perry, less than 10 miles from the Ashtabula County border. County officials coordinated their response from the bowels of the Ashtabula County Courthouse, where the Ashtabula County Emergency Management Agency is housed." 

(Credit)
Official results are due in approximately ninety days, but preliminary results concluded with a clean exercise with no findings.
Thanks goes out to all those that helped on a stormy State Parks on the Air. Contacts were a little sparse this year, but it's always fun getting together and playing radio together.
Thanks to all of the operators, visitors, and helpers that made Field Day 2016 a great one for the club. Considering band conditions, results weren't too shabby.
Results are as follows...
Call Used: K8CY     GOTA Station Call: K8EST     ARRL/RAC Section: OH
Class: 3A
Participants: 17     Club/Group Name: Ashtabula County Amateur Radio Club
Power Source(s): Generator
Power Multiplier: 2X
Bonus Points:
  100% Emergency power                            300
  Media Publicity                                 100
  Public Location                                 100
  Public Information Table                        100
  Formal message to ARRL SM/SEC                   100
  Natural power QSOs completed                    100
  Site Visit by invited elected official          100
  Site Visit by invited served agency official    100
  Youth participation                             100
    Youth operators=5
    Youth participants=7
  GOTA Bonus                                      120
  Submitted via the Web                            50
  Educational activity                            100
  Social media                                    100
  Safety officer                                  100
Total Bonus Points                              1,570
Score Summary:
                  CW  Digital  Phone  Total
   Total QSOs     56     63     922
Total Points    112    126     922   1160   Claimed Score = 2,320
The largest annual on-air event in all of Amateur Radio returns June 25 & 26, 2016! Take to the hills this June and operate with solar power, from batteries or a generator and see how many contacts you can make.
The Ashtabula County Amateur Radio Club will be participating in the ARRL Field Day by setting up at the Geneva Township Garage.
All are welcome to join us to learn more about Amateur Radio. There will be food, fellowship, and fun all through both days. There will even be a Get On The Air station set up for unlicensed people interested in trying out amateur radio for them selves.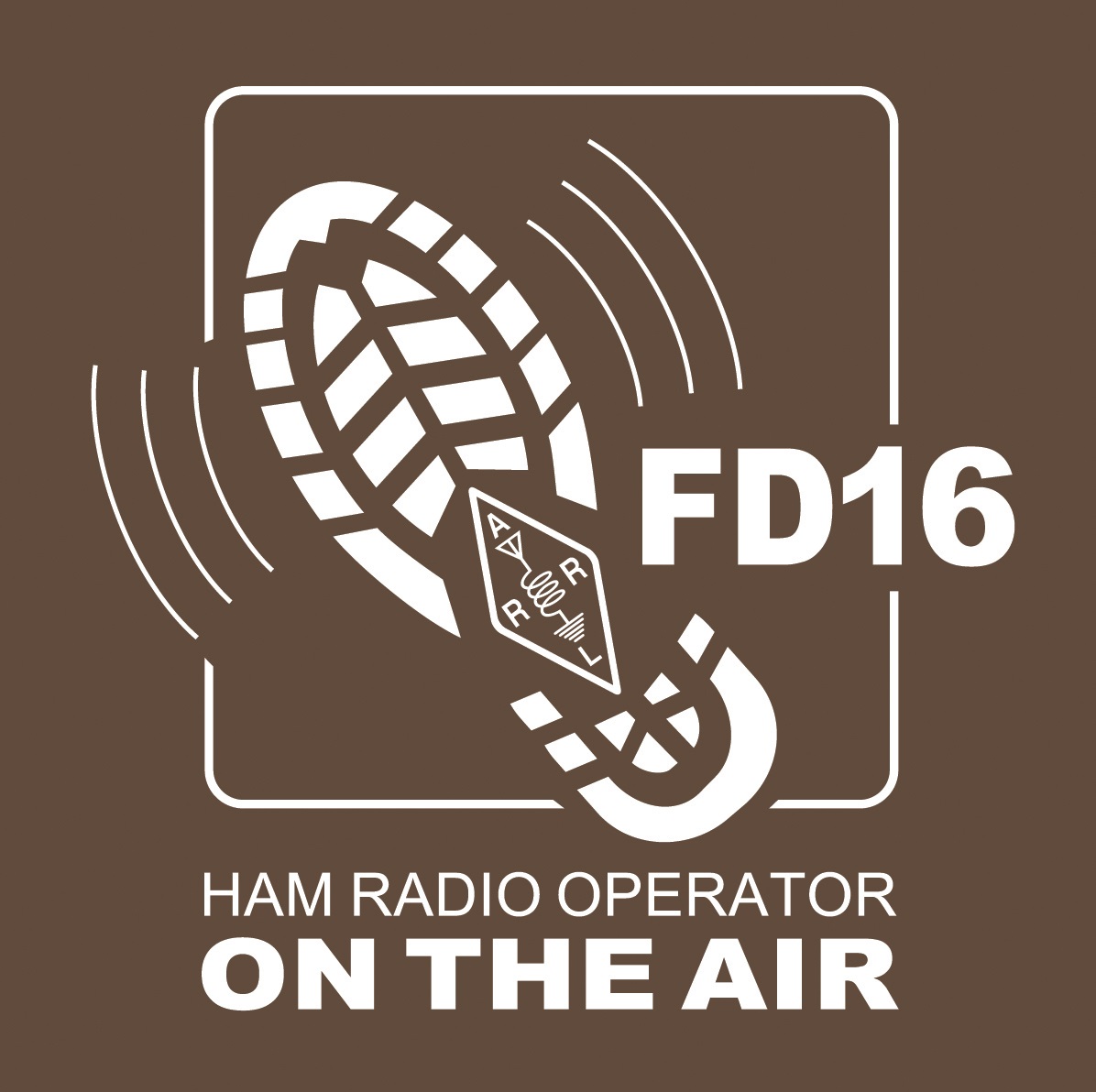 Members of  the Ashtabula County Amateur Radio Club will be participating in the national Amateur Radio Field 
Day exercise, June 25-26, at the Geneva Township Facility, 256 North Cedar, Geneva, Ohio.  Since 1933, ham 
radio operators across North America have established temporary ham radio stations in public locations during Field 
Day to showcase the science and skill of Amateur Radio.  This event is open to the public and all are encouraged to 
attend.
For over 100 years, Amateur Radio – sometimes called ham radio—has allowed people from all walks of life to 
experiment with electronics and communications techniques, as well as provide a free public service to their 
communities during a disaster, all without needing a cell phone or the Internet.  Field Day demonstrates ham radio's
ability to work reliably under any conditions from almost any location and create an independent communications 
network.  Over 35,000 people from thousands of locations participated in Field Day 2015.
"It's easy for anyone to pick up a computer or smartphone, connect to the Internet and communicate, with no 
knowledge of how the devices function or connect to each other," said Sean Kutzko of the American Radio Relay 
League, the national association for Amateur Radio. "But if there's an interruption of service or you're out of the 
range of a cell tower, you have no way to communicate.  Ham radio functions completely independent of the 
Internet or cell phone infrastructure, can interface with tablets or smartphones, and can be set up almost anywhere in 
minutes.  That's the beauty of Amateur Radio during a communications outage." 
"Hams can literally throw a wire in a tree for an antenna, connect it to a battery-powered transmitter and 
communicate halfway around the world," Kutzko added. 
"Hams do this by using a layer of Earth's atmosphere as a 
sort of mirror for radio waves.  In today's do-it-yourself (DIY) environment, ham radio remains one of the best ways 
for people to learn about electronics, physics, meteorology, and numerous other scientific disciplines, and is a huge 
asset to any community during disasters if the standard communications infrastructure goes down."
Anyone may become a licensed Amateur Radio operator.  There are over 725,000 licensed have in the United States, 
as young as 5 and as old as 100.  And with clubs such as the Ashtabula County Amateur Radio Club, it's easy for 
anyone to get involved right here in Ashtabula County.
For more information about Field Day, contact Paul D. Andrews, N8NYI, at 440-997-5483 or visit 
the ARRL.